The Future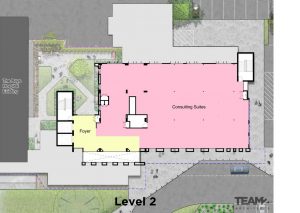 Cancer in our region
In 2020, an estimated 150,000 Australians were diagnosed with cancer, with around 50,000 losing their lives. This number is expected to increase. It is predicted that by 2032, 29,029 people from the Frankston and Mornington Peninsula Community will need treatment for cancer or a hematological diagnosis.*
Currently, there are no radiation oncology services, and limited chemotherapy and cancer support services, in Mornington and the wider Mornington Peninsula. Patients are required to travel to Frankston and beyond for their treatment and support services.
The Bays community solution
Recognising this need, The Bays Comprehensive Cancer Centre (TBCCC) will provide the community with local access to complete cancer care services. Plans for the Centre are finalised and the project has received council and town planning approval. Construction is scheduled to commence in early 2022.
Located on Main Street Mornington, TBCCC will provide those diagnosed with cancer a place for their complete cancer treatment. From their initial diagnosis, patients will be able to attend The Bays campus for surgery, chemotherapy, radiotherapy, pathology, radiology, inpatient and cancer support services. Consulting suites, research facilities for clinical trials, a wellness and education centre and a tranquil garden will also be included. A broad range of cancers will be treated, including lung, breast, prostate and pancreatic.
Patients will be able to remain close to home throughout their entire cancer journey, supported and connected to their community and loved ones. The burden and expense of travel are reduced, giving back precious time to spend with family and friends.
Community support is now required
The Bays received a portion of federal government funding for the upcoming Comprehensive Cancer Centre.
A funding shortfall remains, and community and philanthropic support is now required to help complete this priority project. If you would like to be part of this project, contact Rebecca Hasler, Fundraising and Community Engagement Manager, on 03 5970 5339.
* Sources: Cancer Council Australia; Hardes & Associates data