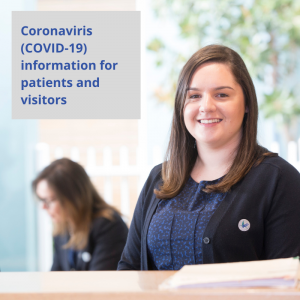 We are closely monitoring and responding to the developments in Australia associated with coronavirus (COVID-19), in conjunction with both the Australian Government authorities and local public health units.
We have strict infection control and prevention protocols in place to protect patients, residents, health care workers and visitors to minimise the risk of any infection, including COVID-19.
The symptoms of COVID-19 are documented on the Australian Government's Department of Health & Human Services website.  If you suspect you may have the coronavirus disease (COVID-19), please call the dedicated hotline on 1800 675 398. Please keep Triple Zero (000) for emergencies only.
Information for patients
Please contact the hospital or your doctor before your scheduled appointment or surgery if:
You are unwell
You have travelled overseas recently
You have been in close contact with someone who has been confirmed as having COVID-19.
Information for visitors
Updated visiting policy (COVID-19)
If you would like to visit a patient in hospital, you can only do so according to our current visitors policy.
Hospital
Visits are restricted to:
Once a day
Maximum of two hours
One or wo visitors at any one time.
Maternity
Visits are restricted to:
One partner or support person (over 16 years of age) s allowed to stay with the patient.
Day Infusion
No visitors are allowed in our Day Infusion Unit.
Our visiting hours:
Monday to Friday, 10am-6pm
Saturday and Sunday, 10am-4pm
All visitors are screened prior to entry.  Please enter our hospital via our Vale Street entrance.  All other entrances are closed to the public.
Please do not visit if in the last 14 days:
You just returned to Australia from overseas; or
You had known contact with someone who has COVID-19; or
You have been unwell or are currently experiencing any of the following symptoms:
– a fever of 37.5 degrees or symptoms of acute respiratory infection such as:
– breathing difficulties such as breathlessness
– cough
– sore throat
– fatigue or tiredness.
For further information regarding visiting restrictions please contact us on 5975 2009.